Abstract
From June 8–12, 1977, the Seventeenth German Protestant Church Congress was held in West Berlin under the motto, "Bear One Another's Burdens [Galatians 6:2]." The approximately 59,000 participants represented a wide range of concerns and convictions, which they advanced in various working groups or on the "Marketplace of Possibilities." Diversity of opinion also prevailed in matters concerning the GDR; thus, on the one hand, Madgeburg bishop Werner Krusche held to the GDR government line in recommending that, "a problem such as that of German citizenship had to be thought through objectively," and also in calling for the recognition of the GDR by the Federal Republic. On the other hand, there was also a stand with information on the founding of a Brüsewitz Center in memory of Pastor Oskar Brüsewitz, who burned to death on August 18, 1976, after setting himself on fire to protest the SED regime. This photograph shows the "Evening Gathering," which took place on Kurfürstendamm during the church convention; it was attended by 130,000 people.
German Protestant Church Congress in West Berlin (June 8–12, 1977)
Source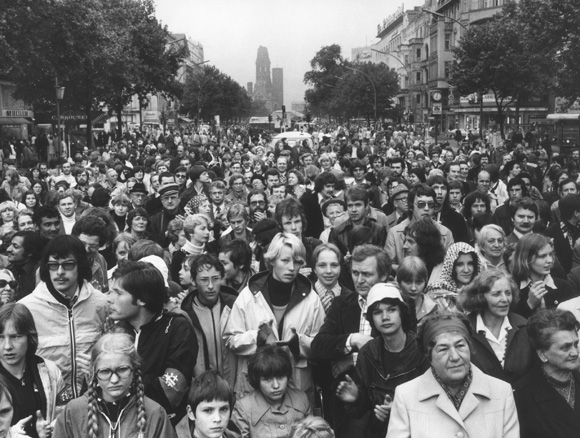 Source: German Protestant Church Congress. June 1977. Signature: 199 822. Photo: Landesbildstelle Berlin. 
Courtesy of the German Information Center