Abstract
Conservative estimates put the number of German civilians killed during the Second World War at about 500,000. Germans on the home front died in particularly high numbers during the last stage of the war, when they experienced daily air raids and often found themselves caught between the retreating Wehrmacht and advancing Allies. In the spring of 1945, over 20,000 non-combatants are thought to have perished in the Battle for Berlin alone. As wartime diaries and postwar accounts have revealed, Germans never became accustomed to the constant death and destruction that surrounded them. This 1945 photo, taken near Berlin's Nollendorfplatz train station, shows what historian Monica Black calls "emergency graves." Germans clung to Christian burial traditions even as raw materials shortages and widespread destruction made it impossible to find or make suitable caskets. These "emergency graves" were created for family and friends, but also for strangers whose bodies were discovered by others. As a practice, Christian burial helped German civilians deal with the death that pervaded everyday life in the last year of the war. Individual Christian burials honoring the death of a fellow German on the home front stood in stark contrast to the anonymous mass burial pits that characterized the Nazi genocide on the Eastern Front.
Emergency Graves under Destroyed Train Tracks in Berlin (1945)
Source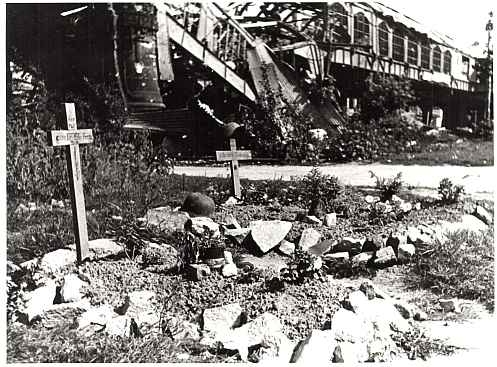 Source: Black and white photograph, 1945. Unknown photographer. F_Rep_290_0197260.
Landesarchiv Berlin, Fotosammlung.