Abstract
The GDR and Egypt established trade relations in 1953 following the Egyptian Revolution of 1952 under Gamal Abdel Nasser, and in 1965 SED Secretary Walter Ulbricht was invited to an official state visit to Cairo. This state visit caused widespread concern in West Germany, which had claimed the exclusive right to represent the German nation since the 1950s under the Hallstein Doctrine. The doctrine established that the Federal Republic  would sever diplomatic relations with any nation that recognized the GDR. The visit reflected the growing confidence of the GDR as it increasingly became an international player, leading to its official diplomatic recognition by Egypt in 1969. At the same time, West Germany established official diplomatic relations with Israel in 1965, turning the Middle East into an important battleground in the Cold War between East and West Germany. The photo shows Ulbricht and his wife Lotte on a visit to Luxor Temple. 
Walter Ulbricht on a State Visit to Egypt (1965)
Source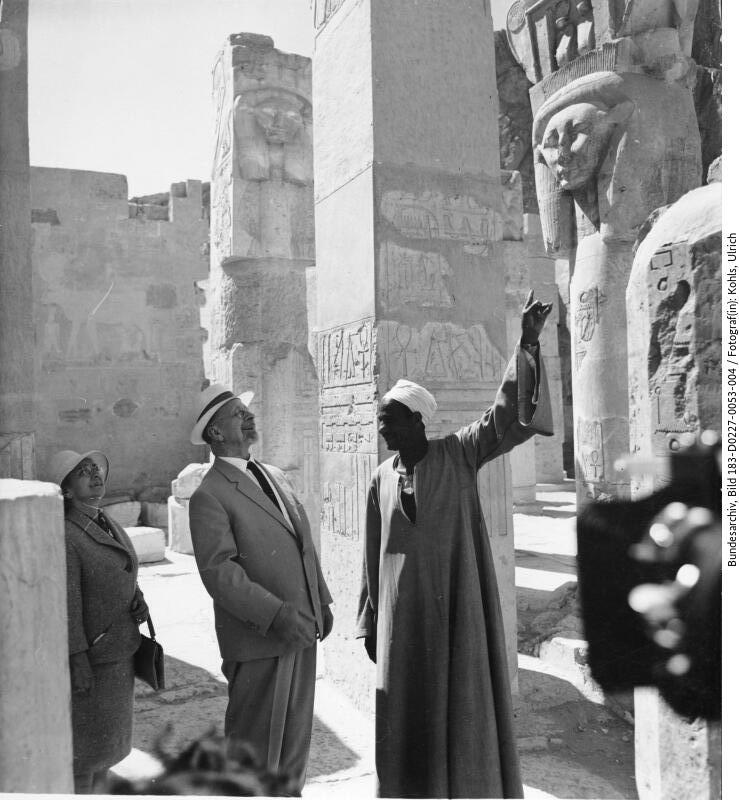 Source: Walter and Lotte Ulbricht in Luxor. Date: February 27, 1965. Photo: Ulrich Kohls. Bild 183-D0227-0053-004.